NACF is Accepting Grant Applications for its Fall Grant Cycle!
The Northwest Alliance Community Foundation (NACF), serving Burnett and northern Polk counties, is accepting nonprofit applications for its fall granting cycle.  In keeping with the mission of "nurturing the strength and well-being of our community by offering guidance and providing resources that support positive solutions," the focus will be on health and wellness for seniors (65+).  The online submission process opens September 1 and grant applications are due by October 16.   The maximum grant award is $5,000 and funds will be distributed November 15.
The senior population in Polk and Burnett counties is escalating and brings with it a number of challenges to how we can best address the needs of this increasing age group.  Polk County's senior population currently stands at 23%, while Burnett County is at 32%, and the statistics have already reached the numbers predicted by the state for 2040.  NACF will consider applications for support of current and future projects that meet the broad definition of health and wellness for seniors.
The application portal link is http://www.grantinterface.com/Process/Apply?urlkey=scvf. The portal is also located on the NACF website at http://nacommunityfoundation.org.  Applications must be submitted by October 16.
Northwest Alliance Community Foundation is an affiliate of the St. Croix Valley Foundation.  We support our local nonprofits in several ways, including grant funding.  Since 2016, NACF has awarded over $122,000 in 72 grants to 48 nonprofits.
Thanks for helping us celebrate 10 Years at our Gala Fundraiser!
Thanks to everyone who joined us at our 10th Anniversary Celebration.
See the grants we've given out to local nonprofits at Grants
Sandhill Cranes and their Habitat
Did you know that sandhill cranes are considered to be dinosaurs of the bird world?  They have not changed in millenia.  That and so much more cool information on cranes and Crex Meadows was shared by Wisconsin DNR Educator, Lauren Finch, during the final 2023 Nurturing Nature talk.
Join us again in 2024 for a new set of environmental talks. Enjoy your summer!
A warm, summer evening surrounded by beautiful plants and an interesting talk on plants.  What more could one ask for?  Local residents gathered at Wood River Gardens to hear Dean Faulhaber talk about plants that attract birds and butterflies, mulching tips and so much more.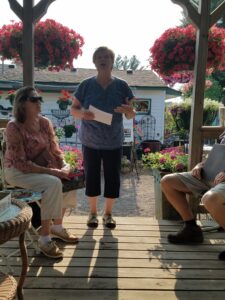 Chris Byerly introduces Dean Faulhaber, speaker for talk on Backyard Gardening.[/caption]
]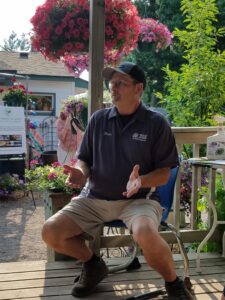 Dean Faulhaber presents information on Backyard Gardening.
Join us for our next talk on Sandhill Cranes and their Habitat. This will be on Thursday, June 29, from 6-7 at Crex Meadows Wildlife Education & Visitors Center. Lauren Finch, Natural Resources Educator, WI DNR will speak.
First Environmental Talk of 2023 a Success!
Native Americans learned to "follow the water with food."  This meant to go where wild rice was growing.  On Thursday, June 15, 20+ people gathered at Crex Meadows for the first of 3 talks in NACF's Nurturing Nature series.  Conrad St. John, St. Croix Tribal Member, and Jeremy Bloomquist, St. Croix Tribal Land & Water Resources Manager gave a fascinating talk on wild rice and its growing conditions.  We all left the 1 hour talk wanting to know even more!
Join us for our next talk on Backyard Gardening. This will be on Thursday, June 22, from 6-7 at Wood River Garden Store.  Dean Faulhaber will speak on protection and restoration of our natural environment beginning in our own backyards.
As printed in the Inter-County Leader on September 20, 2023. The mission of Special Olympics Wisconsin is to provide year-round sports training and competition in a variety of Olympic-type sports for children and adults with cognitive disabilities, giving them continuing opportunities to develop physical fitness, demonstrate courage, experience joy and participate in a sharing…
Read More