resources that meet community needs
families about leaving a legacy
organizations and causes that improve lives
in the future of Polk and Burnett counties
After a 3-year hiatus, NACF presents KNOW YOUR NONPROFITS EXPO.  This year, with generous sponsorship by Webb Lake Community Club, NACF is co-hosting this event with 100 Women Who Care Polk/Burnett, helping nonprofits connect with more friends and neighbors who support your community work.
This event is open to the public. Here's an opportunity to hear nonprofit stories and be an engaged community members.
The event is at the new Zhashagiins Event Center in Siren, formerly the old Four Winds Market. Come see what they've done with the place!
The Northwest Alliance Community Foundation, serving Burnett and northern Polk counties, is accepting nonprofit applications for its fall granting cycle.  In keeping with the mission of "nurturing the strength and well-being of our community by offering guidance and providing resources that support positive solutions," the focus will be on health and wellness for seniors (65+).  The online submission process opens September 1 and grant applications are due by October 16.  The maximum grant award is $5,000 and funds will be distributed November 15.
Nonprofits can submit your grant application here.
Thanks to everyone who attended our 10th Anniversary Gala Fundraiser! We had an amazing turnout. Apart from fundraising, we achieved our goal of getting the word out about NACF to more people in our community!
See the grants we've given out to local nonprofits at Grants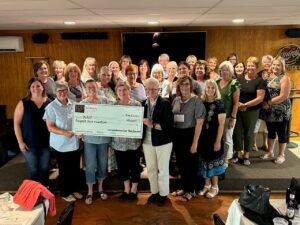 On August 9, 2023, NACF was granted more than $14,000 from 100 Women Who Care Polk/Burnett. Thanks to an excellent presentation, NACF was able to secure this competitive grant. We will add these funds to our regular fall grant cycle which will focus on organizations that help the senior population in our combined counties.
Watch for the NACF Nurturing Community column in the Intercounty Leader called . Twice per month we will highlight area nonprofits and how they serve our community.
If you've missed any of these articles, click here News/Events
Imagine a gift that keeps on giving...for generations!  NACF offers donors simplicity and flexibility in charitable giving, maximum tax advantages and the knowledge that your gifts will benefit your community forever.
As an affiliate of the St. Croix Valley Foundation, NACF benefits from their investment and administrative expertise. Working together, we can get the best investment returns and have the greatest impact on our communities.