resources that meet community needs
families about leaving a legacy
organizations and causes that improve lives
in the future of Polk and Burnett counties
The Northwest Alliance Community Foundation (NACF) has named eight area nonprofit organizations as recipients of its 2023 Fall Grant cycle. Thanks to an additional grant from 100 Women Who Care-Polk/Burnett, NACF is able to distribute $24,145 to nonprofits with an emphasis on health and wellness for seniors (65+). The senior population in Polk and Burnett counties is escalating and brings with it a number of challenges to best address the needs of this age group, and NACF grants will help support current and future projects that impact services for seniors.
Grants will be distributed to the Aging and Disability Resource Center of Northwest Wisconsin, to develop the Burnett County Central Kitchen for meal preparation/delivery; the Frederic School District, for the Balancing It Out senior fitness program; Friends of the Gandy Dancer State Trail, for purchase of a motorized trishaw "bike" to provide recreational activity for Frederic nursing home & assisted living residents; Interfaith Caregivers of Burnett County, for continuing to provide wheelchair ramps; Interfaith Caregivers of Polk County, for operating expenses; Larsen Family Public Library, to partner with ADRC for pop-up libraries at meal sites and sending library materials with meal deliveries; Luck Public Library, for chair yoga classes for seniors; and Webster Senior Citizens, for installation of a handicapped access door at the Senior Center.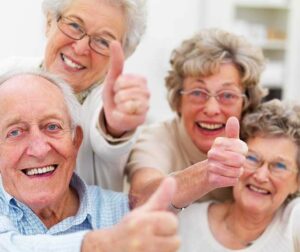 Watch for the NACF Nurturing Community column in the Intercounty Leader called . Twice per month we will highlight area nonprofits and how they serve our community.
If you've missed any of these articles, click here News/Events
Imagine a gift that keeps on giving...for generations!  NACF offers donors simplicity and flexibility in charitable giving, maximum tax advantages and the knowledge that your gifts will benefit your community forever.
As an affiliate of the St. Croix Valley Foundation, NACF benefits from their investment and administrative expertise. Working together, we can get the best investment returns and have the greatest impact on our communities.