resources that meet community needs
families about leaving a legacy
organizations and causes that improve lives
in the future of Polk and Burnett counties
Nurturing Nature – an 'environmental series' of events designed to nurture the passion with each of us…to think and act in support of our natural environment…to promote increased environmental stewardship within the St. Croix Watershed…to take steps to improve the ecosystem we share!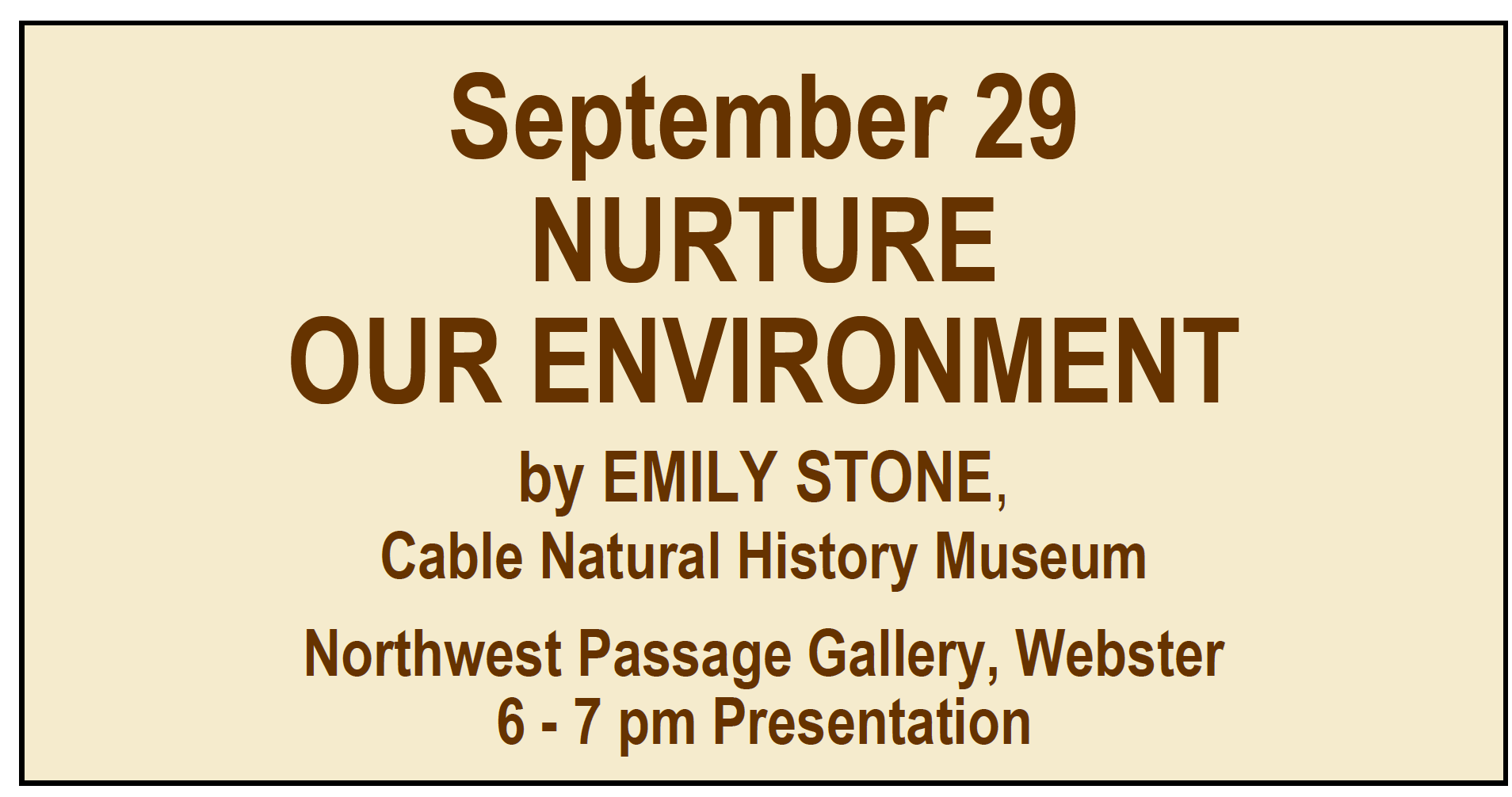 Our final 2022 Nurturing Nature event is taking place on September 29 at the Northwest Passage Gallery in Webster.
LISTEN to a short presentation by Ian Karl of Northwest Passage and several youth residents on the power of nature in therapy.
WITNESS the awarding of the $10,000 grant to a local nonprofit doing tremendous work to support the St. Croix Watershed.
BE INSPIRED by Emily Stone, naturalist, newspaper columnist and writer.
Please join us!
Whether it is eradicating invasive species, landscaping with native plants, lessening rainwater runoff, or amending eating habits to emphasize local and seasonal availability, we hope to inspire in you the spirit and practice to 'do right' with our natural environment– TO MAKE A DIFFERENCE.
Through the Nurturing Nature series, the Northwest Alliance Community Foundation is presenting 3 talks on the environment.  We are sponsoring an exhibit of nature photography and celebrating our environment at a Gala event.
Our program culminates with a $10,000 Capstone Grant Award to a local nonprofit expanding environmental stewardship.
Are you always taking pictures?  Do you have some great nature shots?  Submit your favorite Nature Photos to enter our Gala show contest!   Up to 20 images will be chosen, printed and exhibited.
All events are free and open to the public, but we need your support to make this all happen.  You may know us as a grant making community foundation but every dollar we grant comes from people's donations to us. So thank you for your financial collaboration to Nurturing Nature! TO MAKE A DONATION TO NURTURING NATURE, Click Here
Why Am I on the Board?
By:  Jennifer Turrentine
Nonprofits exist through the hard work of an executive director, a staff, a board, many volunteers and generous donors.  We understand that the director runs day-to-day operations with the help (perhaps) of staff, and we know that the majority of nonprofits in our area would fade away if not for the many dedicated volunteers donating their time and efforts.  And where would nonprofits be without people believing in their missions and making financial donations to the work?
By law, a 501(c)3 nonprofit must have a board of directors, but what does a board do, and what type of person serves on a board?  Board members bring a variety of experiences and skills to nonprofits.  Some are current or retired business owners, lawyers, bankers, teachers or homemakers; others simply believe in the nonprofit's mission and want to help further that mission.
A board of directors sets strategic direction and helps to chart a path forward.  Northwest Passage has an advisory board, where members are not involved in the daily operations.  According to NWP executive director Mark Elliott, "Northwest Passage's board is critical to the overall health of our organization.  They provide oversight for programs and financial systems and our members also act as ambassadors for our organization, presenting NWP with a perspective that challenges us to evaluate and assess how we move forward."
Some boards, like that of the Northwest Alliance Community Foundation, are working boards, a type that usually exists in organizations without paid staff.  In addition to setting strategy, the NACF board also accomplishes much of the planning and implementation regarding programming and fundraising.  "Our board consists of caring individuals with a variety of backgrounds and interests," says board chair Jennifer Turrentine.  "What unites them is a desire to do their part in helping to make this area a wonderful place to live for everyone.  Our board raises funds for nonprofit grants and sponsors educational opportunities for nonprofit leaders.  NACF would not exist without our board."
Interfaith Caregivers of Polk County is supported by a hybrid-type board.  Executive director Karen Krupa notes, "At every monthly meeting, board members talk about how they share Interfaith Caregivers' mission with our community.  All board members serve on two committees which meet once or twice a month.  Board members, who are retired, also volunteer to help with clients' rides and visits."
According to Josie Penberthy, executive director of Caring Hearts, "The members of Caring Hearts board of directors all have experience working with nonprofit organizations.  They bring diverse outlooks and skills to the board which is very beneficial to our mission of working together with local agencies to help low-income individuals and families.  Because of their dedication to the mission of Caring Hearts, if immediate input is needed, board members are just an email or phone call away."
Kelly Hibbs, banker at Sterling Bank and current chair of the Northwest Passage board says "I joined the board as I have always believed in the work they do with children.  I love that the organization fosters hope and healing with clients, families, and communities long-term.  Being on the NWP board has opened my eyes to the various mental health issues that families face, and how NWP offers a wide array of resources to help clients be successful in life."
Chris Moeller sits on a number of boards, including the Northwest Alliance Community Foundation.  Chris states, "You really can make a difference by providing your insight along with others to identify solutions to problems within our community and by sharing the fabulous work being done.  For many boards, a willingness and energy to participate is all you need.  Find the one that matches your interests and your time available; call and ask how you can help, perhaps even starting as a volunteer first.  If you are already on a board, thank you for your service, and please encourage others to share their time and talents too.  There is a real need and your support will not only greatly benefit the organization, but you personally will connect with other like-minded individuals who answered the call to serve."