NACF Receives donation from Webb Lake Community Club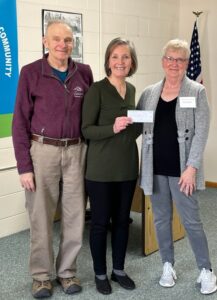 NACF representatives Chris Moeller and Dick Schwab receive a $1,000 donation from the Webb Lake Community Club (WLCC) on April 11, 2023.
The funds will be used towards our 2023 'Know Your Nonprofits Expo' to be held in early October in Siren.  The public is invited to this evening event, co-hosted by NACF and 100 Women Who Care – Polk/Burnett, where they can learn about our many area nonprofit organizations – their good works and their needs.
NACF thanks the WLCC for their generosity and welcome them as our event's Gold Sponsor!