Nurturing Community – Caring Hearts Thriftshop and the Burnett County Food Pantry
As appeared in the Intercounty Leader on June 7, 2023
Located in Webster, across the highway from Wayne's Foods Plus, Caring Hearts and the Burnett County Food Pantry meet the community's needs in many ways.  The thriftshop sells a wide selection of household goods at low cost.  Some people simply enjoy looking for bargains; others shop there because they need to watch every dollar they spend.  And, for those who are facing very difficult situations such as fire, death, etc., the store is often able to provide essential items at no cost.  "What the fire didn't destroy, the smoke did. This furniture and bedding are life-savers."
When there is a serious need and Caring Hearts has the financial resources available, they also help with vehicle or minor house repairs, rent, utilities, gas cards, and hotel vouchers for the homeless or those fleeing domestic abuse.  The staff of Caring Hearts Thriftshop often overhears comments from people who never dreamed they would be the ones who needed to ask for help. "These clothes are more help than you can imagine. There's no way I could afford to buy new clothes for my three grandchildren who need to live with me for a while."
Each month, the food pantry distributes boxes of food (including meat items) to low-income Burnett County households.  Based on county statistics, there are many other individuals and families who qualify for the food pantry but are not making use of this community resource.  "Our Christmas dinner would have only been soup and canned vegetables if it wasn't for your help."
People are amazed when they realize that all of this is accomplished by a team of part-time staff and volunteers.  Caring Hearts employs no full-time staff in order to help reduce operational expenditure.  Current inflation has impacted many households and businesses with rising costs for utilities, food, insurance, rent, and other basic necessities.  These struggles are compounded for Caring Hearts as they work to meet their own increased business expenses as well as try to help others with unexpected life challenges.  Rather than passing the increases on to the thriftshop customers, Caring Hearts relies on donations and grants.  These sources of funding are especially important as Caring Hearts strives to expand its outreach to families who do not qualify for government programs when the unforeseen happens.
To donate your time, talent or treasure, or to sign up for the Food Pantry, contact Caring Hearts at 715-349-8155, or message them on Facebook.
The Northwest Alliance Community Foundation is an affiliate of the St. Croix Valley Foundation.  We support our area nonprofits with educational opportunities and grants.  Please consider joining us by making a donation.  See our website nacommunityfoundation.org for more information or email nacf.hq@gmail.com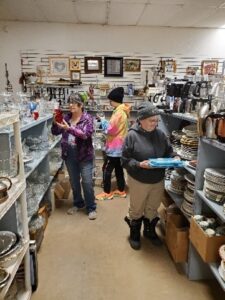 Caring Hearts Thriftshop staff are continually adding items to the shelves as customers shop in the housewares area.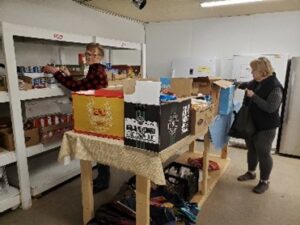 Burnett County Food Panty's staff prepare boxes of food which clientele can receive once a month. The Food Pantry is open every week on Monday, Tuesday, and Friday, 10 a.m. – 3 p.m.